Tom Simpson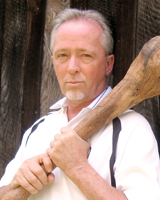 ASK THE MASTER - Tom Simpson answers your billiards questions
"Ask The Master" is your opportunity to get to the bottom of your own personal billiard mysteries by emailing your questions to a true Pool and Billiard Master, Tom Simpson.
Tom Simpson is one of the premier pool and billiard instructors in the world. An ACS Top Level 4 Instructor/Coach and one of only 9 PBIA (Professional Billiards Instructor Association) Master Instructors worldwide, Tom has directly helped thousands of pool players improve their game in addition to training hundreds of new instructors through his National Billiard Academy. Founded by Tom and PBIA accredited since 2004, the National Billiard Academy has its home base in Columbus, OH but they also get out on the road for 3-Day Weekend Intensive Clinics offered at excellent pool rooms all over the country. To learn more about the Academy or the Weekend Intensives check out the website www.poolclinics.com.
In addition to operating and teaching at the National Billiard Academy, Tom also uses his extensive knowledge of billiards as an author and inventor. He has written instructional columns for several billiards magazines and periodicals such as Inside Pool, Professor Q-Ball, Inside English and the APA Magazine and is a Technical Editor for Inside Pool. In 1994, Tom founded Elephant Balls Ltd, the makers of Elephant Practice Balls, the Ghostball Aim Trainer and the Elephant Beautiful balls which you may have seen on ESPN. Other products that Tom has brought to the pool world are the Stroke Groover and his book of pool lessons, Beat People With a Stick, which is a conglomeration of over 120 of his one-page instructional articles.
With over 40 years of playing pool and nearly 20 years as an instructor, Tom's ability to explain his technical understanding of the game is second to none so be sure to use this amazing resource to improve your pool skills. Email your questions to: Askthemaster@pooldawg.com.